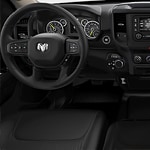 Ram's new 1500 is designed with heavy work and tough challenges in mind. Its popularity comes not only from how appealing it is to look at but also its rugged power and enduring capabilities.
As a light-duty pickup, it has one of the most powerful towing capacities found in its class. Unlike its competition, which can tow moderate weights, the new Ram 1500 can tow with ease as much as 12,000 pounds behind it. It can manage this weight without compromising any of its structural integrity or the energy to its engine.
However, it also makes towing safe thanks to its integrated trailer sway control feature. This durable design protects your trailer from veering off into other lanes of traffic. It can adjust the direction of the trailer for you and keep it in the lane of traffic in which you are driving to prevent serious accidents, rollovers, and loss of cargo.