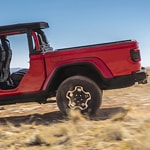 The new Gladiator is Jeep's increasingly popular midsize pickup truck. It has performance and design specifications that rival anything that you can find in its competition. Learn what these features are and why they make the new Gladiator a great investment.
At first glance, the all-new Gladiator looks like any other Jeep. It has the same boxy design and rugged visual appeal for which this brand. However, you also notice that it has a medium length pickup bed that works just as well as any that you find on light or heavy-duty pickup trucks from other brands.
The Gladiator has a towing capacity of thousands of pounds, allowing you to tow small flatbed trailers, UTVs, fishing vessels, and other equipment behind you. It also has four-wheel drive that makes it perfect for taking off the beaten path. You can drive it on the beach, in pastures, or in muddy fields easily.